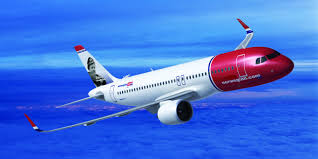 Norwegian Airline struggles to stay aloft
February 9, 2019
The firm had been limping on hoping for a takeover from IAG or Lufthansa, two big European airline groups. But in late January its shares fell by a third after its potential suitors walked away due to worries over the pricing of a deal and about losing flying rights in the event of a no-deal Brexit. To avoid bankruptcy through breaching agreements with bondholders, Norwegian was obliged to raise 3bn krone—over half its market capitalization—in a rights issue.
Analysts are skeptical about whether it can continue operating. Mr Kjos plans to rein in growth ambitions and cut costs to keep the airline aloft in 2019. An ongoing fare war in Europe and rising fuel prices are likely to make losses worse. The company hopes that shifting planes from loss-making European holiday routes to South America, where countries are opening up to foreign airlines, will reduce its losses. But political and financial instability in some markets mean that returns could prove volatile.
If Norwegian disappears, will the long-haul, low-cost model survive? The idea was to apply the low-cost model as successfully mastered by Ryanair, to longer routes. Norwegian and its imitators, such as Primera of Denmark and WOW of Iceland, have offered loss-making fares on routes, hoping to make the money back by filling planes to capacity and by selling extras on-board rather than with tickets.
The strategy has not worked well on longer routes. Norwegian filled only 76% of its seats in January compared with 91% for Ryanair. One reason is that flyers will more readily choose a no-frills flight for an hour-long flight than for eight hours. Other long-haul budget rivals are doing worse: Primera went bust last October and WOW is teetering on the edge of bankruptcy.
Yet Norwegian also made mistakes that could be avoided by other airlines, argues Ross Harvey of Davy, a stockbroking firm. First, it grew too quickly with too weak a balance-sheet. The losses that Norwegian racked up in order to stimulate demand were not steep enough to trouble a big airline group with deep pockets. But Norwegian, which is heavily indebted, cannot easily absorb them.
Second, unlike Ryanair and easyJet, the airline did not control its costs tightly. "It is not a long-haul, low-cost airline, but a long-haul, low-fare one", says Daniel Roeska of Bernstein, a research firm. Its weak balance-sheet also means it has to pay high interest to finance aircraft.
The rise of low-fare startups such as Norwegian has reduced the share of seats across the Atlantic carried by the big three European airlines and their joint-venture partners from 80% in 2015 to 72%, according to CAPA, an aviation consultancy. Their success has prompted larger airline groups to copy the model. IAG has responded to Norwegian, for example, by launching its own budget long-haul operation, called LEVEL. It is converting Aer Lingus, its Irish airline, into another. Lufthansa has done the same with Eurowings' long-haul routes. For a while, low-cost long-haul carriers will live on as part of larger airline groups. But the bad news for flyers is that if Norwegian goes bust, the big airlines would have free rein to raise fares, presumably while keeping no-frills service.
A takeover by a low-cost rival with money to spare, such as Ryanair, is another possible outcome. The Irish firm has been looking for opportunities to expand outside its western European territories, where the market for air travel is saturated. But its boss, Michael O'Leary, is wary about a bid. He has looked at buying Norwegian but thinks that Europe's three big airline groups will do everything they can to destroy low-cost rivals competing with the long-haul flights which earn their corn. That seems a reasonable conclusion
Southwest Airlines Generating New Perks
February 8, 2019 (Article courtesy of Mary Schlangenstein)
Southwest Airlines Co. Chief Executive Gary Kelly piqued investor curiosity recently when he said new ways to generate revenue are "under construction." The discount airline barely has a toe in the big pool of money that rivals collect from "ancillary" fees for, say, food bought on board or preferred seating. And Kelly has ruled out some of the juiciest mainstays at other airlines, such as charges for checked bags, assigned seats and reservation changes.
"That's not what we do," he said on an earnings call. Southwest, he said, has "better opportunities that fit our brand." Kelly wouldn't go into specifics, and Southwest declined to provide additional comment. That's fueling a guessing game on Wall Street about what he has up his sleeve to boost revenue as Southwest grapples with an increase in costs. Here are some possibilities:
More perks
Although Southwest flies just coach cabins and has no assigned seats, it does have several fare categories, including Business Select, which comes with a drink, a spot among the first 15 passengers to board and expedited security screening in some locations.
Southwest could provide additional perks at higher prices, said Adam Hackel, an Imperial Capital analyst. Passengers might pay extra to gain access to priority screening, for example, or to get their bags in the first wave off the luggage carousel. The extras could be sold separately, like Southwest's Early Bird boarding option, or be built into fare categories along the lines of Business Select.
The Dallas-based airline spent $500 million to replace its 30-year-old reservation system in 2017, in part to build new revenue options like those. The updated platform also made it easier for Southwest to change fares, seat inventories and flight schedules.
Forward seating
Southwest could also take Business Select a step further — think business class lite. The carrier always has dismissed the idea of offering a first- or business-class cabin, so it isn't expected to add seats with more legroom for a higher fare.
It could, however, charge more for guaranteed access to as many as four rows near the front of the plane, said Jamie Baker, an analyst at JPMorgan Chase & Co.
Those 24 seats might appeal to business travelers who would like to avoid standing in boarding lines yet be assured a spot toward the front of the plane, with last-on and first-off benefits and dedicated bin space. Such a system could add 10 cents to $1 per share in annual earnings, depending on the pricing, Baker said in a report.
Up-selling
Instead of — or in addition to — adding perks on the high end, Southwest could reduce benefits in cheaper fare categories. One possibility, for example, would be not allowing a passenger who cancels a ticket to use the amount paid toward another flight.
This plan would take a page from the many rivals who offer basic-economy fares. Those bare-bones tickets often entice travelers to buy costlier options. Southwest has said basic economy, per se, is off the table, but a few changes could have the same up-selling effect.
Seller beware
Ancillary fees accounted for just 3.1% of Southwest's passenger revenue through the first nine months of last year, lagging well behind those of Delta Air Lines Inc. and United Continental Holdings Inc.
U.S. carriers as a whole took in more than $3.6 billion in checked-bag fees alone during the period, according to the U.S. Transportation Department.
Southwest will have to tread carefully, though, to avoid damaging the brand it has cultivated for transparency in fares and not peppering passengers with fees.
"As long as Southwest offers these as add-ons and the consumer sees they are appealing, and Southwest doesn't take anything from its core value proposition, they have a reasonable chance of success," said Henry Harteveldt, founder of Atmosphere Research Group, which focuses on the travel industry.
For Free Live TV Supremacy
January 31, 2019
On the eve of Super Bowl weekend, U.S. airlines are duking it out over which one offers the best opportunity for live TV viewing in-flight. United is the latest airline to roll out the new perk, saying this week that it would provide free live television on more than 200 of its Boeing 737 aircraft that already have seat-back TV screens installed.
That's the equivalent of offering the service at more than 30,000 seats, United said. In addition to the live TV option, the carrier said it will also offer free access to a library of movies and TV shows through passengers' personal devices. American also upped the ante, saying that it would offer free Apple Music streaming inflight through its inflight WiFi. American already had free live TV on more than 400 aircraft flying on domestic routes. It's a rare case of airlines making an amenity free of charge to gain loyalty; the trend in recent years has been to squeeze out revenue from optional services ranging from meals to checked bags.
In its announcement, United said that the free TV is just one of a "series of innovations and improvements" that is rolling out this year, as it plays catch up in the amenities battleground. The aim is for passengers "to feel like they're sitting in their own living rooms," is how the carrier put it.
In fact, other airlines have offered live TV for years, starting with JetBlue, whose deal in late 1999 with DirectTV to install TVs at every seat gave the startup a way to stand out from the airline pack. Other airlines followed; Delta has offered free live TV since 2016 but it had earlier tried the service though its short-lived subsidiary, Song. Delta's package also includes movies and canned TV shows.
Southwest, long a holdout in the inflight entertainment arena, offers WiFi access on its fleet and passengers are able to stream live TV; last year it started offering free movie to the package. It has chosen not to install seatback screens, which add to the weight of the plane.
And, in fact, some airlines are choosing to remove seatbacks altogether; after it acquired Virgin America, known for the quality of its inflight entertainment, Alaska Airlines said it would ultimately phase out the seat back screens in favor of better WiFi and streaming choices vis passenger devices.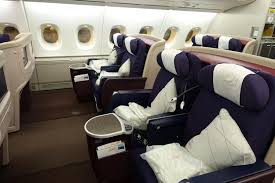 To squeeze economy sections, expand premium seats on flights
January 31, 2019 (Article courtesy of Barbara Peterson)
United Airlines will woo high-fare passengers by retrofitting more than 100 planes to add more premium seats on key routes.The airline also plans to start using a new 50-seat jet with mostly premium seats on some key business-travel routes. They are part of an industry trend to give more space and better service to high-paying passengers who account for a disproportionate share of airline revenue.
Andrew Nocella, the airline's chief commercial officer, said executives decided that United has "a shortage of business-class seats into the premium markets, and this fixed that problem." Henry Harteveldt, an airline analyst at Atmosphere Research, said United's announcement was a bold challenge to Delta Air Lines, the acknowledged front-runner among the nation's top three carriers for its on-time performance and strong profit margins. "This is big news. They are taking direct aim at Delta and its strength with premium travelers," Harteveldt said.
United will retrofit 21 of its Boeing 767-300ER jets starting in the next several weeks. It will reduce seats from 214 to 167 by shrinking the economy section while going from 30 to 46 business-class seats and adding 22 "premium plus" seats. The planes will fly first between United's hub in Newark and London.
The airline also plans to add a few more first-class seats to its Airbus A319 and A320 planes. By year end, it hopes to begin flying new 50-seat Bombardier CRJ 550 jets between Chicago and smaller markets with many business travelers, such as Bentonville, Arkansas, the home of Walmart. Federal regulators have not yet certified the plane.
Small, 50-seat planes are notoriously cramped and unpopular with many travelers. Nocella said United's new small planes — 18 feet (6 meters) longer than the planes it uses now — will have 10 business-class seats, 20 "economy plus" seats and only 20 regular economy seats. "By making those 50-seat jets more comfortable, United has a good chance of attracting more business and frequent flyers," said Harteveldt, the analyst.